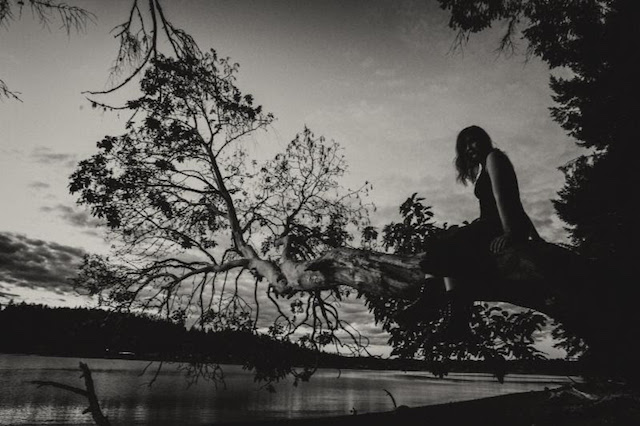 As the self-titled debut album by
VOUNA
nears through
Artemisia Records
– the label founded by the Weaver Brothers of
Wolves In The Throne Room
– Decibel Magazine has premiered a new single from the record. The epic "
A Place To Rest
" is now streaming exclusively alongside an interview with the Yianna the creator.
All music on Vouna was composed and all instruments performed by front-person and native to the Pacific Northwest, Yianna Bekris, formerly of Vradiazei, Eigenlicht, and Sadhaka. The album was recorded entirely at Wolves In The Throne Room's studio, Owl Lodge, which is located at the edge of an ancient forest in Olympia, Washington. Nathan Weaver of WITTR collaborated with Yianna to create the artwork, which mixes archaic Hellenic mythic images with Cascadian atmospheres.
Decibel Magazine offers in part with their extensive feature and new song premiere, "VOUNA's synth-laden, pastoral take on the often crushing and morose tenets of funeral doom is refreshing and enveloping in its naturalistic flow, folk-imbued textures, ethereal vocal melodies and black metal ambiance…The song itself pulls the aforementioned disparate sounds together in cohesive fashion and should appeal as much to fans of Myrkur or Subrosa as it will to acolytes of Skepticism or Wolves in the Throne Room."
VOUNA's debut evokes the devastating and beautiful journey of becoming the last person on Earth. Razor sharp tremolo picked guitars cut through the heart like a knife. Mournfully sung vocals and cinematic melodies are combined with crushing doom drumming, while layers of primitive '90s digital synths conjure a lush and rugged soundscape. The music is inspired and influenced by Finnish funeral doom, Eastern European black metal, and Greek folk music, a must-hear for fans of My Dying Bride, Skepticism, Shape Of Despair, and similar acts. On stage, the VOUNA live lineup is fronted by Yianna Bekris on guitar and lead vocals, with Lord Hoelzel on drums, Autumn Kassel on synth, Caitlin Fate on lead guitar, and Marrow handling bass and backing vocals.
Vouna
will see release through Artemisia Records on CD, LP, and digital platforms next Friday, November 9th. The album's penultimate track "Drowning City" is streaming alongside digital preorders
via bandcamp
, and physical preorders are available
via the Artemisia webstore
.
Live shows in support of the debut album are to take place in the US throughout November, listings so far are included below and will be updated on the
Facebook page
.
VOUNA LIVE:
05/11/2018 Elbo Room Jack London — Oakland, CA w/ Common Eider King Eider, Byagtor
06/11/2018 Blue Lagoon — Santa Cruz, CA w/ Docent
08/11/2018 Cans Deli – Tucson, AZ w/ Suicide Forest, Shadows Of Algol, Azfarat [
info
]
09/11/2018 Cricket Pavilion – Olympia, WA w/ Λ∅n, more TBA [
info
]
11/11/2018 5 Star Bar – Los Angeles, CA w/ Atriarch, Statiqbloom, Cursed Moon [
info
]
12/11/2018 TBA – Chico, CA
13/11/2018 The Bamboo Room at King Wah's – Medford, OR w/ Atriarch, Exulansis
[info
]
14/11/2018 Old Nick's Pub – Eugene, OR w/ Atriarch, Felled [
info
]
15/11/2018 High Water Mark — Portland, OR w/ Solace, Hail
16/11/2018 The Black Lodge – Seattle, WA w/ SwampheavY, Serpentent, Searching For Reason [
info
]
17/11/2018 TBA – Port Townsend, WA