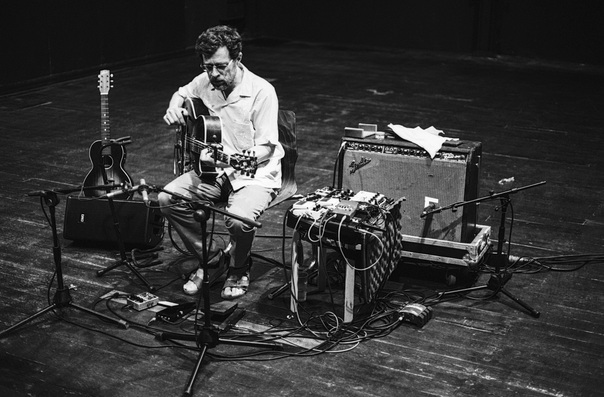 We're pleased to present the fourth video from
Eric Chenaux
's latest and acclaimed album
Slowly Paradise
on
Constellation
. "
Bird & Moon
", which premiered at
The Quietus
, is once again produced by Chenaux's longtime collaborator
Eric Cazdyn
, who has been the exclusive video-maker for Chenaux's past four solo albums now, going back to 2010. The news comes as further live shows are announced for this year, find out more about the video and dates below.
Cazdyn has consistently created smart, understated, often obliquely whimsical and always conceptually acute visual takes on Chenaux's brilliantly warped avant-folk/jazz ballads. Recurrent in these video works has been a post-modern exploration of the camera's gaze and the boundaries between action/inaction, stasis/fluctuation, public/private, observed/surveilled, realism/artifice, premeditation/accident, and continuity/rupture. In his series of videos for Slowly Paradise to date, Cazdyn has also been incorporating Chenaux himself as subject in newly overt ways, exploring narrative minimalism and nominal surrealism with Chenaux as explicit "actor".
"Bird and Moon" follows Chenaux on a pair of meandering bike rides along Toronto streets in early winter and through Paris during the bloom of spring (his two "hometowns"). Repetitions, mirrored actions, and recurring motifs from each city's perambulations are edited using frequent, brief, complete blackouts between segments. Calmly rupturing this quotidian realism is an intervention of sorts, as Chenaux cycles past a picnic scene in each city, where "Bird and Moon" plays through a pair of tiny Danelectro amplifiers laid out on a blanket on the grass. The album audio gives way to this site-specific sonic simulacrum, with its tinnier distortions cutting against the naturalism of the setting. This intervention is itself a recurrence of other passing instances in the video where environmental sounds combine with and disrupt the music track.
"Bird and Moon" joins three other videos previously released from Slowly Paradise (see below) and is another wonderfully epigrammatic visual accompaniment to the stuttering, leisurely, gently fried vibe of this song.
PREVIOUS SLOWLY PARADISE VIDEOS:
"Wild Moon"
"There's Our Love"
"Abandoned Rose"
ERIC CHENAUX TOUR DATES
09/11/2018 Milan (IT), Fondazione Feltrinelli
23/11/2018 Ravenna (IT), Transmissions Festival
02-03/12/2018 Madeira, Madeira dig Festival
05/12/2018 London (UK), The Islington
06/12/2018 Birmingham (UK), The Dark Horse
07/12/2018 Bristol (UK), Unitarian Chapel
+ + +