ARTEMISIA RECORDS (THE LABEL RUN BY WOLVES IN THE THRONE ROOM) ANNOUNCE THE DEBUT ALBUM BY VOUNA, TO BE RELEASED ON 9TH NOVEMBER
LISTEN TO THE PENULTIMATE ALBUM TRACK "DROWNING CITY"
Wolves in the Throne Room is proud to announce that they will be releasing the sorrowful and grand self-titled debut album by synth-driven funeral doom band VOUNA on their own Artemisia Records.
All music was composed and all instruments performed by front-person Yianna Bekris (previously of Vradiazei, Eigenlicht, and Sadhaka), fellow native to the Pacific Northwest. VOUNA's debut evokes the devastating and beautiful journey of becoming the last person on Earth. Razor sharp tremolo picked guitars cut through the heart like a knife. Mournfully sung vocals and cinematic melodies are combined with crushing doom drumming, while layers of primitive 90s digital synths conjure a lush and rugged soundscape. The music is inspired and influenced by Finnish funeral doom, English masters My Dying Bride, Eastern European black metal, and Greek folk music.
Vouna was recorded entirely at the WITTR studio, Owl Lodge, which is located at the edge of an ancient forest in Olympia, WA. Nathan of WITTR collaborated with Yianna to create the artwork, which mixes archaic Hellenic mythic images with Cascadian atmospheres, see below.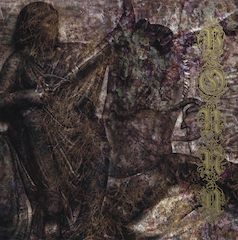 Vouna Track Listing:
1. A Place To Rest
2. Cattle
3. Last Dream
4. Drowning City
5. You Took Me
Pre-orders for CDs, LPs and other Vouna Merchandise will be available at the Artemisia USA Store in early October.
https://artemisiarecords.com/vouna
https://www.facebook.com/ArtemisiaRecords