SOUTHERN LORD TO RELEASE THE DEBUT ALBUM BY LA TRIO THE PRIMALS;
ALL LOVE IS TRUE LOVE INCOMING 7TH SEPTEMBER
Southern Lord is excited to bring forth the debut album by Los Angeles-based rock trio, The Primals, founded by current and former members of Darkest Hour, The Explosion, Dead To Fall, and more. The band's first full-length, All Love Is True Love, will see release on September 7th, the label this week sharing the first single, "Fortune & Sons."
About the track the band note, "'Fortune & Sons' is one of the heaviest songs on the record. Though the album offers a plentiful dose of dynamic variety, we wanted to kick you off with a ripper."
The Primals is comprised of vocalist/guitarist John Henry (vocalist for Darkest Hour), bassist Chad Fjerstad (formerly of Dead To Fall), and drummer Andrew Black (formerly of The Explosion). The band's fuzzy execution is equal slabs ripping guitar heaviness and infectious pop sensibility. Concocted by a seasoned group of thrashers with a historical backbone in D.C. punk community. The disintegrated spirit of grunge rises from the ashes, revitalized in a new light.
All Love Is True Love, The Primals' debut album, features ten infectious tracks produced by John Reis (Rocket From The Crypt, Drive Like Jehu, Hot Snakes) and completed with cover art by Laura K. Giron. Fans of Wand, Ty Segall, Nirvana, and The Pixies are especially recommended to tune in.
Southern Lord will release The Primals'
All Love Is True Love
on CD, LP, and digital platforms on September 7th. Find digital preorders via
bandcamp
; watch for physical preorder options, additional audio samples, and more to be shared in the days ahead.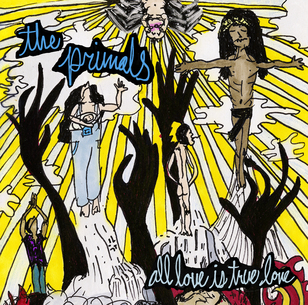 All Love Is True Love Track Listing:
1. Hello Cruel World
2. Dead Predators
3. Another World To Call Your Own
4. Pity City
5. Fortune & Sons
6. The Wayward Impaler
7. It's Personal
8. Together Whatever
9. Save Me, Baby
10. I'm Coming Home
THE PRIMALS LIVE:
03/08/2018 Toxic Toast – Long Beach, CA w/ Fissure, Ass Life, Bringers
18/08/2018 Echoplex – Los Angeles, CA w/ Starcrawler, The Paranoyds, more
07/09/2018 TBA – record release show