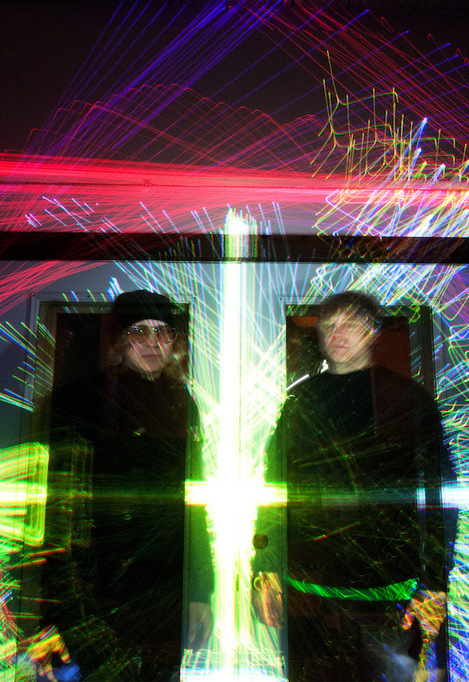 Light Conductor
is the twilight slow-burn modular synthesis duo of
Young Galaxy
's
Stephen Ramsay
and
Jace Lasek
of
The Besnard Lakes
.
Sequence One
is their first album: a warm shimmering sonic hug of enveloping drone and hypnotic arpeggiation flowing along buoyant filter-sweeping eddies and waves. Gently immersive like a saltwater bath under a starry sky, Light Conductor make nighttime/sunrise music in widescreen high-fidelity at their vintage-equipped Breakglass Studios in Montréal, pinning the pre-amps with stately, slowly shifting synth tones, stereophonic squelches and pink noises.
Lasek is among Canada's most seasoned producer-engineers; his recordings and mixes marinate in slow-cooked analogue glaze, balancing spacious soundstaging against sumptuous saturation – as fans of his esteemed power-shoegaze rock band The Besnard Lakes can attest (and as can be heard on other award-winning recordings Lasek has helmed, by the likes of Patrick Watson, Suuns, Moonface and Esmerine). With Light Conductor, Lasek brings this studio sensibility to bear on music of slow inexorability and simplicity, co-piloted by the spartan and sultry aesthetic that has guided Ramsay through six albums of acclaimed electro-pop by Young Galaxy over the past decade. The two have been kicking out these Light Conductor slow jams for years, and fans of their respective bands should find profoundly dazed and satisfying respite alongside Lasek and Ramsay when taking the mesmeric plunge into Sequence One.
Come float in their cosmic soup, as Side A unspools around the twinkling ostinato melody of "A Bright Resemblance" like a satellite signal pulsing through celestial refractions, with various atmospheric pressures increasing and eventually blanketing all transmissions in a white-noise blizzard on "Chapel Of The Snows." Side B starts out in deeper space, on the fittingly titled "Far From The Warming Sun," where a residual glitch skips amidst oscillating dark matter drones and distant intercepted tones, before returning to earth in the flinty rhythmic interlude of "When The Robot Hits The Water." Sequence One ends with full ignition and lift-off: the duo's eponymous electro-psych-rock closer "Light Conductor" (featuring Young Galaxy compatriot Catherine McCandless on backing vocals) is a throbbing empyrean slab of methodically levitational fuzz.
Sequence One is pressed on thick midnight-black 180gram vinyl, with the first 333 copies in hand-numbered screen printed jackets on exquisite uncoated vellum-finish art stock paperboard.
Light Conductor
Sequence One
CST139 • 180gLP / DL
Release Date: 08 March 2019
TRACKLIST
1. A Bright Resemblance (11:17)
2. Chapel Of The Snows (6:48)
3. Far From The Warming Sun (10:40)
4. When The Robot Hits The Water (3:35)
5. Light Conductor (5:42)
RIYL: Klaus Schulze, Sinoia Caves, Spacemen 3, Cluster, Jean-Michel Jarre
Light Conductor Bio
Long time friends Jace Lasek and Stephen Ramsay formed Light Conductor out of a mutual desire to create expansive drone, ambient, and electronic music. After fortuitously acquiring a trove of rare analog electronic gear and meticulously restoring it from various states of disrepair back into pristine working condition, the duo began to explore the creative territories that were opened by their new musical tools. Using their mutual admiration for the celestial wig outs of Spiritualized, the quiet majesty of Eno's ambient albums, and the experimental landscapes of William Basinski as a template, Lasek and Ramsay ultimately carved out a sound of their own, resulting in their debut album
Sequence One
.
Jace Lasek is a musician, recording engineer, mixer and producer. He co-owns Breakglass studios in Montréal where he's recorded, mixed and/or produced a plethora of bands including Suuns, Land of Talk, Wolf Parade, Sunset Rubdown, Moonface, Belle Orchestre, Dwarfs Of East Agouza, Esmerine, and his own band The Besnard Lakes – the twice-shortlisted Polaris Prize juggernaut created in 2006 with his wife, Olga Goreas
Stephen Ramsay is a musician and producer. After a stint as touring guitarist in the acclaimed Montréal band Stars, he co-founded Young Galaxy with his partner Catherine McCandless, making six albums together. The band garnered three Polaris Prize nominations before taking an indefinite hiatus in 2018. In 2016, he started his own imprint, House Of Commons (now Insane Master Bedroom), which has release music by Ramsay (as Drowzy), Graham Van Pelt and Luke Loseth.
Praise for The Besnard Lakes:
"Led by the husband-and-wife duo of Jace Lasek and Olga Goreas, the sprawling Montreal collective crafts complex and dramatic anthems that fill the room with blissful sound… Caking on layer upon layer of glorious harmonies, overblown guitars, swirling feedback and the propulsive thunder of drums, The Besnard Lakes' members bring all those disparate musical elements together in one bracing triumph."
–
NPR
Praise for Young Galaxy:
"Young Galaxy are a Canadian national treasure." – Drowned in Sound
"Stunning… Shapeshifting is fantastic and unbound."
–
Pitchfork