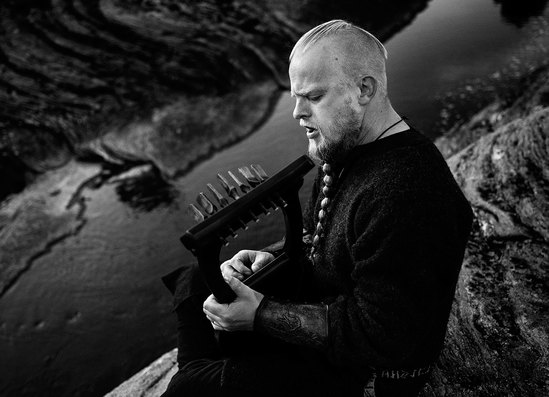 As the incoming sold-out UK shows approach, Wardruna founder Einar Selvik shares a new video of breathtaking visuals for the track "Voluspá" his skaldic rendition of the Old Norse poem Voluspá (Prophecy of the Seeress), taken from an acoustic album Skald, to be released on 23rd November through By Norse. This production of epic proportions is a collaboration between Einar and the Finnish company Koski Syvari led by Tuukka Koski and filmed in Finland where Einar spent intense days of training with wild wolves, preparing for the shoot.
About the experience, Einar Selvik comments "My respect for the craft behind this grand old poem is profound, so the task of making visuals for it was not taken lightly. After Tuukka and his team's outstanding work on our previous video for "Raido", it was a natural choice to work with them again. The film itself ended up with a production of over thirty people, and I am deeply humbled by the effort everyone put into it, and mighty proud of the result! On a more personal note I have to say that having the privilege to interact so closely with the wolves featured in the video, is something I will carry with me for the rest of my life."
Tuukka Koski comments "It was a great journey to collaborate on this new video for Wardruna. Knowing that Einar doesn't settle for little and seeing him this happy makes me proud of myself as well." No settling for little indeed, check out the beautifully shot video below.
Skald takes the listener on a musical journey outside the massive soundscape that Wardruna is known for and into a simpler and more direct form, where voice, poetry and ancient instruments like Kravik-lyre, Taglharpa and Bukkehorn lead the way. About the album Einar Selvik comments:
"Skald was recorded live in the studio with the intention of capturing the raw and uncompromising energy of a live performance rather than aiming for a flawless and polished expression. It sets out to give voice to the ancient craft that once lay at the heart of the Norse oral traditions, presented as it takes shape in the hands of a humble contemporary skald today."
All formats of the album contains an extensive booklet with all lyrics translated as well as a solid introduction to the
Skald
and Old Norse poetry written by the acclaimed Icelandic author and Old Norse philologist
Bergsveinn Birgisson
. Find out more at
bynorse.com
.
Wardruna's sound is a contemporary one, characterised by the use of old and historical instruments like Kraviklyra, taglharpe, goat horns, birchbark lures and more. The vocals range from whispering voices to melodic song and mighty choirs. All performed with sincerity and conviction, all the more powerful when performed live. See below for incoming dates, all sold out.
WARDRUNA EXCLUSIVE UK LIVE DATES:
19.11. – Edinburgh, the Queens Hall – SOLD OUT
21.11. – Manchester – Albert Hall – SOLD OUT
22.11. – London – O2 Shepherd`s Bush Empire – SOLD OUT