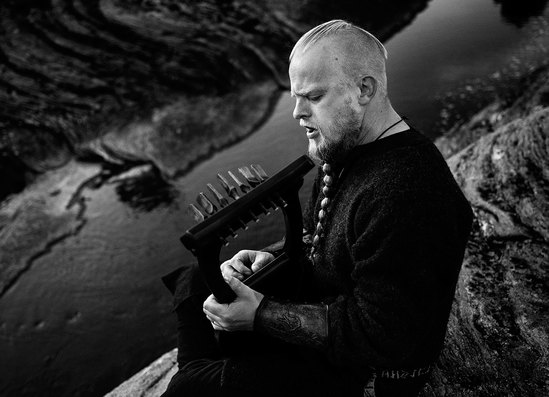 Following the sell out UK tour dates this week, Wardruna proudly reveal their new acoustic album Skald, released today through By Norse and now streaming below.
Skald takes the listener on a musical journey outside the massive soundscape that Wardruna is known for and into a simpler and more direct form, where voice, poetry and ancient instruments like Kravik-lyre, Taglharpa and Bukkehorn lead the way.
About the album Einar Selvik comments: "Skald was recorded live in the studio with the intention of capturing the raw and uncompromising energy of a live performance rather than aiming for a flawless and polished expression. It sets out to give voice to the ancient craft that once lay at the heart of the Norse oral traditions, presented as it takes shape in the hands of a humble contemporary skald today."
All formats of the album contains an extensive booklet with all lyrics translated as well as a solid introduction to the
Skald
and Old Norse poetry written by the acclaimed Icelandic author and Old Norse philologist
Bergsveinn Birgisson
. Find out more at
bynorse.com
.
"Truly special gig. This is potent, eternal music. Something to hold onto into the madness of the modern times and a reaffirmation of those hypnotic themes that affect us all from the forces of natures, the power of the sea, our pagan nature past that is our true soul, the symmetry of the forest, life and death and our own cultural and emotional DNA all threaded through stunning melodies and deeply resonant songs."
– LOUDER THAN WAR
"Wardruna has long evoked Viking tales with cinematic ambiance, but Skald reaches into the core of Nordic folk music to resurrect in all their arcane glory." –
RIFF MAGAZINE
For further information about these live dates or any other questions, please do not hesitate to get in touch (lauren@rarelyunable.com).