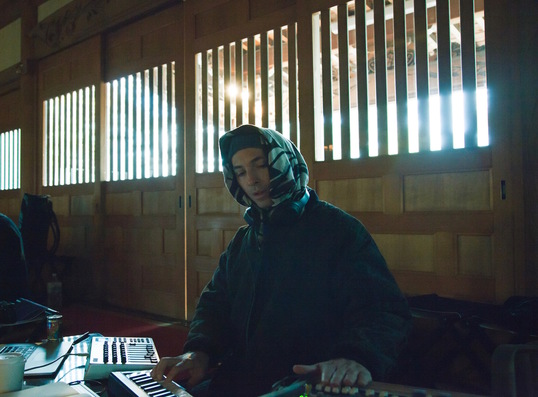 TIM HECKER SHARES THE HAUNTING NEW SONG "KEYED OUT" FROM THE NEW ALBUM KONOYO
OUT 28TH SEPT VIA KRANKY
LIVE DATES APPROACHING, INCLUDING NEWLY ANNOUNCED US DATES
Tim Hecker shares the haunting new song "Keyed Out" from his incoming, ninth full-length Konoyo, which is incoming via kranky on 28th September.
Regarding "Keyed Out" Hecker says:

"The track "Keyed out" was written over several sessions and finished in a small temple on the outskirts of Tokyo, during one of our initial trips to record with Motonori. I wanted to resist the temptation to overload the music with layers and layers of hyper-edited texture, as if that would help the piece become more whole. The song is a lonely deteriorating synth line, refracted and isolated, played alongside a small court music ensemble on what was a crisp birdsong-filled November morning."
Tim Hecker announces more live dates including rare ensemble appearances in the US. Forthcoming performances for Konoyo will feature traditional Japanese Gagaku musicians on the shō, ryuteki and hichiriki in synergy with his own explorations of noise, dissonance, and melody, creating a hybrid of electronic abstraction and otherworldly minimalism, alternately heavy and gentle. Full dates below.
Tim Hecker + The Konoyo Ensemble
2018
JUST ANNOUNCED FOR 2019
February 18 – New York, National Sawdust
February 19 – New York, National Sawdust
February 22 – Los Angeles, Masonic Lodge at Hollywood Forever Cemetery
February 23 – Los Angeles, Masonic Lodge at Hollywood Forever Cemetery
Konoyo ("the world over here") was largely recorded during several trips to Japan where he collaborated with members of the gagaku ensemble Tokyo Gakuso, in a temple on the outskirts of Tokyo. Inspired by conversations with a recently deceased friend about negative space and a sense of music's increasingly banal density, Hecker found himself drawn towards restraint and elegance, while making music both collectively and alone.
As with the Icelandic choir he arranged on 2016's Love Streams, the heights of Hecker's talent emerge in his manipulation of source material, bending and burnishing it into fantastical new forms. Keening strings are stretched into surreal, pixelated mirages; woodwinds warble and dissipate as fractal whispers of spatial haze; sparse gestures of percussion are chopped, isolated, and eroded, like disembodied signals from the afterlife. Both in texture and intent, Konoyo conjures a somber, ceremonial mood, suffused with ritual and regret. Visions flutter and fade; dreams gleam and decay.