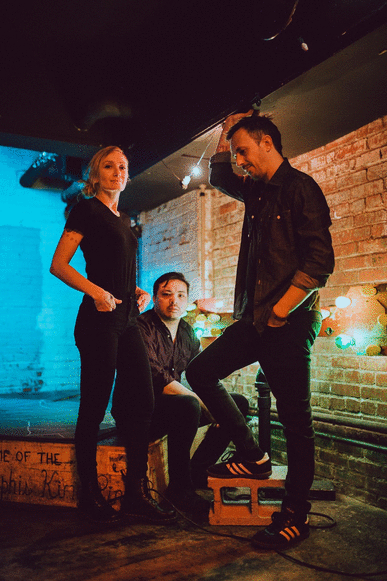 LOVE & DECAY OUT APRIL 26TH VIA IPECAC RECORDINGSAND DEBUT THEIR FIRST NEW SONG "THE AGE OF DECAY"
Spotlights' music is iron tone in a velvet glove. They strike with full force, perfectly balancing the weight and sound spectrum of each instrument. And yet it's a weight that's also sublime in it's beauty, with dream-like vocals encased in the mix of subharmonics. A rich and unctuous vibration that melts in your ears, nourishes your brain, and engulfs you with their warmth, like the gravity of a small planet. "The Age of Decay encapsulates everything we do on this record," explains guitar player/singer Mario Quintero. "Musically, it has some of the heaviest moments as well as the most dynamic and melodic. It shows little bits of what we get into throughout the entire album in one track. Lyrically, it reflects on personal points in my and Sarah's relationship, how things grew from when we met, moving around the country and chasing this thing together. The juxtaposition about love against this backdrop of a world that can be hard to deal with." Mario continues "It's intangible, It's intense. It's beautiful. There's an impending darkness underneath everything and a sense of unease, but it's also honest and vulnerable. It's just really important to us. Regardless of why anyone might react, that's why we do it." Mario handled the production work on the eight-track offering, which was recorded in he and bass player/singer Sarah Quintero's basement. The new album also finds the band officially grow to a trio, with touring drummer Chris Enriquez becoming a full-time member. Spotlights' story happens void of spectacle, show, or tableau. However, in this day and age, that might be why their story feels so serendipitous and strange, if not utterly surprising. This story also instantly appealed to some rather influential peers who lent an early endorsement. Two musicians—husband-and-wife duo Mario [guitar, synths, vocals] and Sarah Quintero [bass, guitar, vocals]—simply pick up their instruments and mainline dense distortion, spacey soundscapes, and unnervingly serene vocal transmissions directly from the heart. This unpredictable, yet unassuming sound quietly heralded their arrival in 2016 on the D.I.Y. debut LP, Tidals. Brooklyn Vegan stumbled upon the project and streamed "Walls." The song eventually entranced musician and producer Aaron Harris (ISIS/Palms) who shared it with his Palms singer and Deftones frontman Chino Moreno. An invite to open the Deftones summer tour followed as the band would go on to share the stage with everyone from Melvins, Quicksand, Hum, and Glassjaw to Pelican and Pallbearer. Ipecac Recordings co-founders Mike Patton and Greg Werckman fell under the band's spell and signed them. Spotlights' Ipecac debut, Seismic, arrived in in the Autumn of 2017. During the subsequent tours, Spotlights recorded an Audiotree session. The band also released an EP, Hanging By Faith, in June 2018.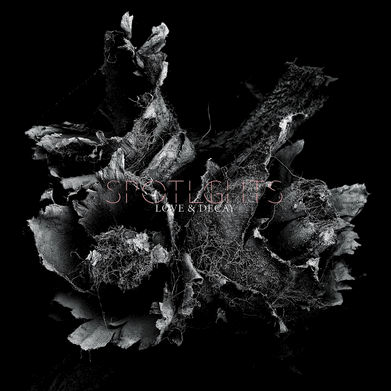 Love & Decay tracklist:
Continue the Capsize
The Particle Noise
Far From Falling
Until The Bleeding Stops
Xerox
The Age of Decay
Mountains Are Forever
The Beauty of Forgetting

The physical version of Love & Decay also features a ninth song: "Sleepwalker." Album pre-orders, including a mauve-colored 2LP set, are available now with digital pre-orders including an instant download of "The Age of Decay".  
PRAISE FOR SEISMIC:

"Seismic is also imbued with an almost celestial warmth. After all, if you're going to shoegaze, why not do so from way up in the stars." – RECORD COLLECTOR 

"Seismic…both sharpens up the guitar and intensifies the somnambulist sheen…they are at their best when strands of guitar and synthesizer tangle and weave, producing something akin to a lullaby, albeit one that's far from sleep-inducing…it is nimble and concise, thoughtful and focused – a sideways take on the genre and a refreshing change from the downbeat onslaught of their nearest contemporaries." – THE WIRE

"With vast soundscapes under heavy skies and tinged with a noir 80s nuance that elevates Spotlights' stylishly forward-thinking atmospheric bludgeon." – METAL HAMMER 

"They avoid many of the common pitfalls associated with some shoegaze or sludge artists in that the album never feels like it drags. Sometimes doomy, sometimes romantic, it's as heavy as it is beautiful."  – GHETTOBLASTER 

"[Spotlights] balance delicate atmospherics [and] crushing sounds," – REVOLVER   "… the Quinteros make some truly huge-sounding music, much of it crushing. There's an ethereality and grace about it, however, which makes the ambitious expanse of Seismic consistently interesting throughout its hour-plus runtime." – TREBLE ZINE
Spotlights.bandcamp.com
Facebook.com/spotlightsband
Twitter.com/spotlightsband
Instagram.com/spotlightsmusic