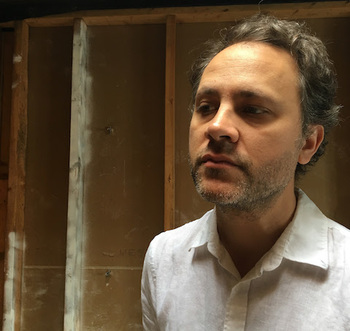 Sandro Perri is soon to release In Another Life, his first new solo album since the acclaimed Impossible Spaces from 2011 (which garnered a Best New Track and Top 50 Albums of 2011 from Pitchfork, among many other accolades). Prior to release on Friday, Perri shares the second single "Everybody's Paris pt III" – the third in his distinct series of songs on the album which begins with Perri on vocals (pt I), with the mic then handed over to André Ethier (The Deadly Snakes) for Pt II and Dan Bejar (Destroyer) for Pt III – which you can listen to below – each taking a vocal turn singing lyrics of their own.
The new album is what Perri describes as an experiment in 'infinite' songwriting. The title track is a 24-minute pop mantra for sequenced synth, piano, guitar and voice, progressing sideways rather than forward. A relaxed three-chord vamp runs the length of the album's Side One, peppered with Sandro's languid, lilting vocal and adorned with continually developing musical details – massaging the listener with the joys of repetition while defying stasis and monotony. Like the longer-form work of fellow-travellers Bill Callahan, Destroyer or Arthur Russell, Perri extends the notion of the meditative minimalist pop song to its literal maximum, flouting 'commercial' concerns in our streamingly short-attention-span era – and perhaps implicitly calling for a politics of slow consumption? The lyric of In Another Life suggests as much, moving through bemused critiques and degrees of equivocation about unrealized utopias, culminating with the final stanza: Beyond the choice of create or destroy / inherit, steal, gift or employ / Fair is far too small a word we'd enjoy / In another life / So hold a promise no bigger than two hands / Hope scaled and re-read in human / And not reduced to a list of demands / In another life.
Side Two of In Another Life features a similar approach, though in a distinct 3-part series: Everybody's Paris. Sandro calls this a song-cycle designed to accept any lyrical variation fed into it: a fill-in-the-blanks questionnaire in the form of a song. Of course Everybody's Paris ends up being much more than this, with the evocative phrase of the song's title serving as the lyrical tent pole and recurring refrain; an anchor point for signification and sentiment that intentionally belies the suggestion of anything prosaic or administrative about Perri's formal conceit. In the hands of these three master lyricists and voices – and with Perri subtly reconfiguring the instrumentation and arrangements for each of the three parts – Everybody's Paris emerges as a profound and fitting sibling (a set of triplet brothers?) to Side One's 'infinite' title track.
The result is a gently yet enormously affecting album that basks thoughtfully and discerningly in a slow, sweet melancholia. In Another Life is a supremely listenable return to form for Sandro Perri, the music like a temporal analogue to a tender nature tableau registering slight changes under shifting light and a meditative gaze: at once appearing to signify only itself, while auguring the promise of harmonious life. Perri has been called one of the most singular producers in contemporary music (Boomkat) and his long affiliation with Constellation through various electronic and singer-songwriter guises (Polmo Polpo, Glissandro 70, Off World) has produced a uniquely adventurous and iconoclastic discography. In Another Life expands on this in peerless fashion.
Sandro Perri • In Another Life

CST136 • 180gLP / CD / DL
Release Date: 14 September 2018
RIYL: Van Morrison, Morton Feldman, Destroyer, Bill Callahan, Yo La Tengo, Arthur Russell
FULL ALBUM INFO AND PREORDER LINK HERE
Praise for Sandro Perri's 2011 album Impossible Spaces:
Impossible Spaces truly synthesizes [Perri's] myriad musical interests and places equal emphasis on rhythm, texture, and melody. With Perri backed once again by a coterie of Toronto improv-scene all stars, the album strikes an uncanny balance between sounding ambitiously executed and completely off-the-cuff; an epic of both accident and design. Impossible Spaces isn't simply the most accessible and immediately rewarding album to bear Sandro Perri's name, it also serves as a handy musical roadmap to its maker's sinuous creative course.
PITCHFORK (8.3)
Isn't this a tasty little record? From Toronto's evolving wunderkind Sandro Perri, Impossible Spaces is an album of fluid, eclectic indie-rock and jazzed vibes, with uncharted subtleties, magical connections and sublime textures.
GLOBE AND MAIL
While Perri pulls from some bright places like California and Brazil, there is still a dark bent to the record. Dissonant chords, truncated melodies and unresolved patterns make for surprise shifts in direction, but the heady notions are often balanced nicely by a relaxed, almost improvisatory delivery. Impossible Spaces is one of the more all-encompassing albums I've had the pleasure of taking this year. Even after a dozen listens, it's evident that mysteries remain to be decoded, chief among them the way Perri spins anti-matter and intangibles into something undeniably real.
DUSTED
Idiosyncratic visionary Sandro Perri strikes the dearest conflation of his eclectic interests with Impossible Spaces, an ambitiously bold statement, sure to stand as one of the finest records of the year. As he did on 2007's brilliant Tiny Mirrors, Perri finds a majestic meeting place for disparate sounds, but he's chosen a livelier home for his ideas here. Driven by synths, drums, guitars and various woodwinds and horns, the record is stirring, happily mired in a dreamy temporal confusion
.
EXCLAIM!