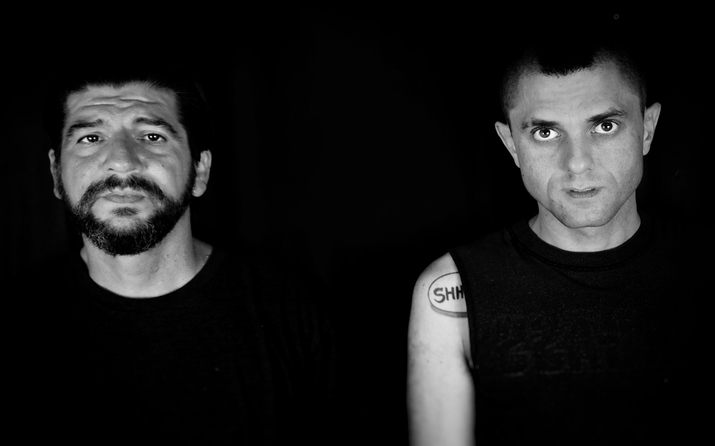 (Photos of Planet B, by Becky DiGiglio)
GUEST APPEARANCES BY KOOL KEITH, MARTIN ATKINS, NICK ZINNER, MORE;
Ipecac Recordings
announces the November 23rd release of the self-titled debut album by
Planet B.
Watch the video for the album's first single, "
Manure Rally
," here:
Planet B is the duo of punk provocateur Justin Pearson and hip-hop producer Luke Henshaw (Sonido de la Frontera, First Power Crew). Together, these two dissidents combine their styles into a new and thrilling collaboration, bolstered by an awesome array of guests: from hip-hop pioneer Kool Keith, to industrial godfather Martin Atkins, to rock guitar extraordinnaire Nick Zinner of The Yeah Yeah Yeahs.
As the founder of Three One G Records and a member of such bands as Swing Kids, The Locust, Retox and Dead Cross, Justin Pearson has existed as a leader in the underground for almost three decades. As label owner and musician, he has put his artistic, politically-charged stamp on hundreds of releases, and has influenced thousands of people in the realms of hardcore punk, noise-rock, and beyond.
In Planet B, Pearson's poetic aggression melds with Henshaw's wildly creative beats in a new sound, potentially as relevant to fans of artists like Death Grips, Ho99o9, and Lil Ugly Mane, as to fans of Pearson's past work.
The sound lies somewhere just out of reach of genre, with aesthetics rooted in hip-hop, hardcore, turntablism, and horror movie soundtracks of the '70s and '80s – catchy, heavily percussive, and eerie all at once. As Henshaw uses his vast palette of sounds to set apocalyptic tension, Pearson screams his heart out, railing against "the lack of humanity in the world and particularly in the US's current administration," as he puts it. First single "Manure Rally" is a blatant stab at President Trump as Pearson sings:
"Severed head of the fat politic / Hate downwards and watch them die quick / The Tiny Hands fear its violin's tear while everyone can hear its shit is insincere."
Other album highlights include a cover of Depeche Mode's classic "Never Let Me Down" – an earlier version of which was released as part of the Love Oakland compilation, a benefit for the victims of the Ghost Ship fire in Oakland.
Planet B was recorded by Luke Henshaw and Matt Coleman at Penguin Studio in San Diego, CA and mixed and mastered by Brent Asbury (of Three One G act Panicker) at Beta Petrol in Portland, OR. The cover art was created by Javan Henshaw and Brandon Moon.
Never one to rest on his laurels, Pearson has made a career by embracing new ideas and new collaborations. His unusual, yet brilliant, partnership with Henshaw and friends in Planet B is the latest manifestation of this forward mentality.
Line-up
Justin Pearson – vocals
Luke Henshaw – programming
Guests:
Kool Keith (Dr. Octagon, Ultramagnetic MCs)
Martin Atkins (Public Image Ltd, Killing Joke, Pigface)
Nick Zinner (The Yeah Yeah Yeahs, Head Wound City)
Sonny Kay (Year Future, The VSS, Angel Hair, GSL Records)
Gabe Serbian (The Locust)
Joseph Karam (The Locust)
Becky DiGiglio
Jake Najor (Jake Najor & The Moment of Truth)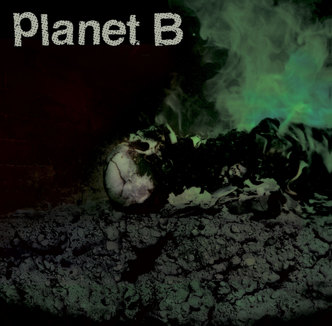 1) Crustfund (feat. Kool Keith)
2) [A] Not At All [B] Somewhat [C] Very Much
4) Disease Control (feat. Sonny Kay)
6) Mirror, Mirror, On The World
7) Big Karma (feat. Joseph Karam)
8) Brutal Evolution (feat. Becky DiGiglio, Jake Najor)
9) Never Let Me Down (Depeche Mode cover, feat. Nick Zinner)
10) Come Bogeyman (feat. Martin Atkins)
11) The Beginning Is Near
Pre-order the album, here:
Discography:
Planet B (2018, Ipecac Recordings)
Split 7″ w/ Invisibl Skratch Piklz (2017, Three One G)
Wrong Utopia 7″ (2017, Three One G)
"Icon of independence since the early '90s, Justin Pearson obeys no one's rules. Vocalist, bassist, record label owner, author, and actor, the born leader has made a career of staying one step ahead, confounding both the mainstream and the underground in the process." – MASS APPEAL
"[Planet B] applies an electronic edge to the grindy noise freakouts of Justin's other bands… A new musical direction." – BROOKLYN VEGAN