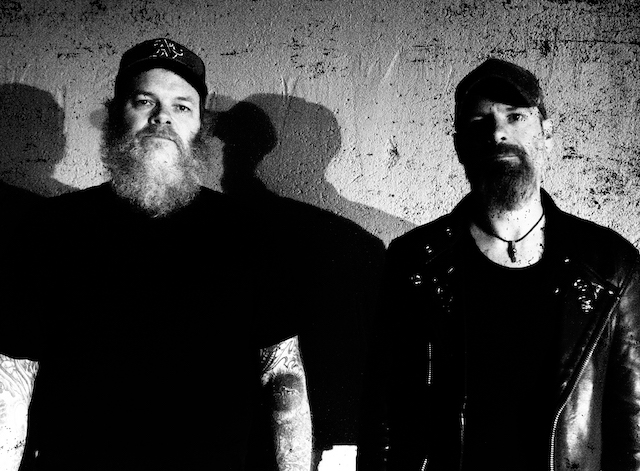 [photo by Julie Patterson]
MIRRORS FOR PSYCHIC WARFARE ANNOUNCE A NEW ALBUM, I SEE WHAT I BECAME
INCOMING VIA NEUROT RECORDINGS ON 28TH SEPTEMBER
There's nothing fun here; nothing but the cold of an autopsy followed by the heat of a crematorium…
Mirrors For Psychic Warfare, the industrial collaboration between Neurosis' Scott Kelly and Buried At Sea's Sanford Parker, will release their second chapter of sonic anxiety this Autumn via Neurot Recordings. Titled I See What I Became, the follow-up to the duo's 2016's self-titled debut is produced by Seward Fairbury (Corrections House) and Negative Soldier, mastered by Collin Jordan (Eyehategod, Indian, Wovenhand, Voivod etc.) with decibel manipulation by Dave French (Brothers Of The Sonic Cloth, The Anunnaki), and comes swathed in the cover art of Thomas Hooper (Neurosis, Harvestman, Boris, Tombs, Doomriders).
As a precursor to the album's release, Mirrors For Psychic Warfare will play two very special shows later this month supporting Godflesh in Chicago and New York City respectively with future live abrasions, including a European tour this Autumn, to be announced in the weeks to come.
MIRRORS FOR PSYCHIC WARFARE (WITH GODFLESH)
24/08/2018 Metro – Chicago, IL w/ Harm's Way, Ledge [tickets]
25/08/2018 Gramercy Theater, New York, NY w/ Tombs, Body Stuff [tickets]
It's been three rough years since Mirrors For Psychic Warfare sprang into existence with their startling self-titled debut, but don't think for a second that the time was spent idle, this unit constructed an even more unnerving and destructive record with I See What I Became. I know; hard to believe.
Over the course of these eight bile-rich pieces, a sonic abattoir is erected, exploited, and razed. Turbulence rises and churns giving way to rhythmic machinations, lights flicker, a grand mal/guignol seizure besets a frog-headed snitch, blood collects in a stainless-steel gutter. Claustrophobic sudor that evokes all you held dear from Skinny Puppy, Foetus, Godflesh, bath tub tina, and wondering where you will sleep, provided you ever do. There's nothing fun here; nothing but the cold of an autopsy followed by the heat of a crematorium. A sliver of galvanised bone flies from a circular saw into the toothless maw of a streetwalking Kali Yuga. Good or bad, I'm not sure what we did to deserve this. [words by Aesop Dekker]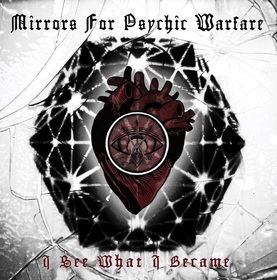 I See What I Became Track Listing:
1. Animal Coffins
2. Tomb Puncher
3. Body Ash
4. Flat Rats In The Alley
5. Thing Of Knives
6. Crooked Teeth
7. Death Cart
8. Coward Heat
I See What I Became will see release on CD, digital, and vinyl formats on September 28th with preorders available via the label.
QUOTES FOR THE PREVIOUS RECORD:
"Kelly and Parker deal in a form of debased, defeated industrial future-folk, a zoned-out space cluttered with crunching metallic debris. Some of the quieter moments skirt the dreaded dark ambient category – but that subgenre always seems to suggest hokey cyberdelic techno-sabbats or the Hellraiser sequel in which chief Cenobite Pinhead sashays around on a spaceship. By contrast Mirrors For Psychic Warfare seed concerns about depleted stocks of tinned food and the likelihood of typhoid." – WIRE
"A bleak, trance inducing glimpse into the abyss which warrants frequent visitation." – TERRORIZER
"Parker's ability to invoke foreboding tones and textures enhances the ritualistic features, bringing MPFW closer in line with Jef Whitehead's defunct project Lurker Of Chalice than Corrections House…the psyche rattling tension they maintain is as unnerving as it gets." – METAL HAMMER
"Imagine a broken mirror on the floor, one shard catching your eye, reflecting a warped, spectral veil emanating from those motherships when at rest, like exhaust pipes slowly bellowing, and a mist created by gradually subsiding engine heat." – ZERO TOLERANCE