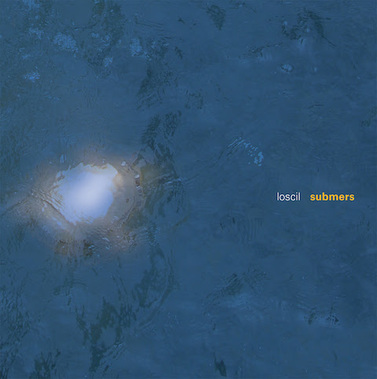 STREAM LOSCIL'S "ARGONAUT I" FROM THE AQUATIC AMBIENT OPUS,
PLUS KRANKY TEAM UP WITH AMBIENT CHURCH TO STAGE FIVE PERFORMANCES SHOWCASING ITS STORIED ROSTER
Kranky
continues its ongoing campaign of issuing or reissuing out of print or non-label titles on expanded formats, including works by
Tim Hecker
,
Stars Of The Lid
,
Low,
and
Loscil.
The latest project in the label's queue is Loscil's 2002 aquatic ambient opus
Submers
, which has only existed on CD until now. November 23rd sees the release of an inaugural double-vinyl pressing of this long heralded classic of miasma, mystery, and undertow.
On occasion of the label's quarter-century anniversary Kranky is partnering with "nomadic experiential" event series
Ambient Church
to stage five performances showcasing its storied roster. Four American churches will play host this November and December in Portland, Chicago, Los Angeles, and New York. More details and tickets are available via
Ambient.Church
.
Portland, OR – 16th Nov
Grouper
Benoit Pioulard
Strategy
Portland, OR – 17th Nov
Loscil
Valet
Saloli
Los Angeles, CA – 1st Dec
Grouper
Brian McBride
Saloli
Chicago, IL – 8th Dec
Dedekind Cut
Windy & Carl
Pan•American
Steve Hauschildt
New York, NY – 15th Dec
Dedekind Cut
Forma
Earthen Sea
Saloli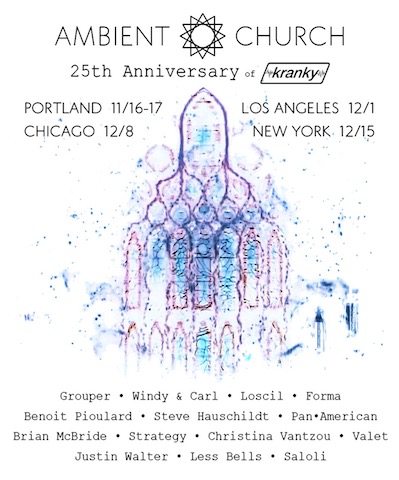 In other label news,
Forma
are
currently touring across Europe
,
Grouper
performs two shows in London on
Monday 29th October
(the early show has now sold out), and kranky are on the cusp of releasing the debut album by
Saloli
this week. For more information about any of this label news, please do not hesitate to get in touch.