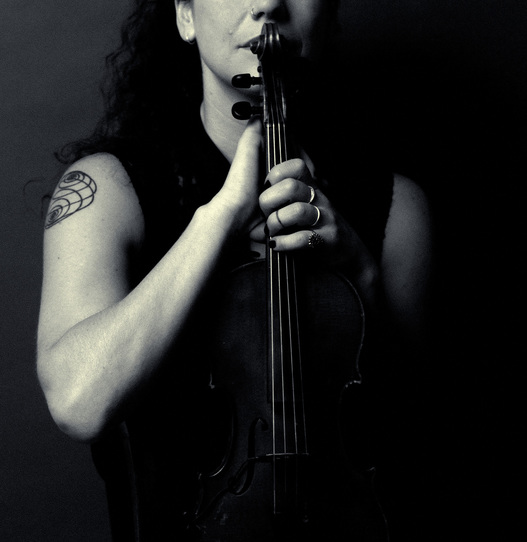 Constellation
is proud to celebrate the release of
Entanglement
,
Jessica Moss
's second solo album
.
Drawing from her extensive history playing with
Thee Silver Mt. Zion
and
Black Ox Orkestar
, among many other projects,
Entanglement
showcases Moss's refined musicianship, evident now more than ever in her solo work. Inspired by particle physics and the bonds between different entities,
Entanglement
, is both a gorgeous sonic offering that expands the borders of post-classical music and a testament to the connections that pervade among creative communities and the universe that contains them.
Moss will be touring extensively following the release of Entanglement, playing selections from the album accompanied by her finely crafted video work. Enjoy her captivating audio-visual performance at the following shows:
Jessica Moss Autumn 2018 Tour Dates
26 October – Brooklyn, NY @ Park Church Co-op
3 November – Budapest, HU @ Trafo
4 November – Bratislava, SK @ Kulturák klub
9 November – Milano, IT @ Fondazione Feltinelli
11 November – Avellino, IT @ Godot
13 November – Dublin, IR @ The Workman's Club
15 November – Brighton, UK @ The Rose Hill
16 November – London, UK @ The Adelphi Club
19 November – Glasgow, UK @ Bloc
21 November – Copenhagen, DK @ VEGA
22 November – Ravenna, IT @ Transmissions Festival
23 November – Ravenna, IT @ Transmissions Festival
24 November – Leeuwarden, NL @ Explore The North Festival
25 November – Tincques, FR @ L'aureole Béthencourt
27 November – Metz, FR @ 7(7) café
28 November – Bruxelles, BE @ Café Central
29 November – Paris, FR @ Espace B
30 November – St. Petersburg, RU @ Opera Club
1 December – Moscow, RU @ Pluton
3 December – Madeira, PT @ Madeiradig
4 December – Braga, PT @ Gnration
10 December – Ottawa, ON @ General Assembly
11 December – Hamilton, ON @ This Ain't Hollywood
12 December – Chicago, IL @ The Empty Bottle
13 December – Rock Island, IL @ Rozz-Tox
14 December – Toronto, ON @ The Burdock
Jessica Moss's beautiful video for "Fractals (Truth 4)" moves slowly through a tableau of gently shifting landscapes that overlay and dissolve one into the next in a subtle otherworldly progression.
Moss has stitched together footage shot during her extensive travels on tour over the past year, allowing lush forests, sparkling bodies of water, architectural and industrial landscapes to transfigure one another – at once familiar and peculiar, literal and surreal, perfectly accompanying the layers of processed violin that shift and build throughout this final movement of her four-part "Fractals" opus. In the song's final minute, a chorus of voices emerges in tandem with a moment of visual clarity that then gives way to a closing fantasia of layered, colour-saturated images.
The video reveals Moss's striking and thoughtful visual aesthetic – her visual art practice has long been an important part of her identity, and while this has always taken a back seat to her musical career, it's wonderful to see Moss developing video works in tandem with her solo composition and performance. These works are also projected to stunning effect during certain passages of her live show and Moss is currently at work on further visual accompaniments to the Entanglement album that she'll share in concert during her upcoming tours.
Jessica Moss
Entanglement
CST138 • 180gLP / CD / DL
Release Date: 26 October 2018
RIYL: Stars Of The Lid, Hildur Guðnadóttir, Clarice Jensen, Christina Vantzou, Oliver Coates, Sarah Davachi, Ian William Craig, Johnny Greenwood
"Another stellar album from an artist whose solo work has now surpassed her collaborative work… There is a sense of order, a trustworthy framework, as Moss becomes the instrument and channels its harmonic power. "Particles" is one of the best tracks of the year."
–
A CLOSER LISTEN
"Moss draws upon a prodigious range of influences: from the post-rock and avant-klezmer of the aforementioned groups, to drones and loops reminiscent of post-minimalism. Over the past year, she has honed the material of Entanglement at over eighty concerts, developing a side-long piece, "Particles," and a suite of four "Fractals." Impassioned, moody, and slow-burning, her compositions are some of the most compelling fare we have to anticipate this fall." –
SEQUENZA 21
"Beautiful, powerful, moving, seductive."
–
CLASH MUSIC
Jessica Moss is available for interviews.
For more information, contact lauren@rarelyunable.com