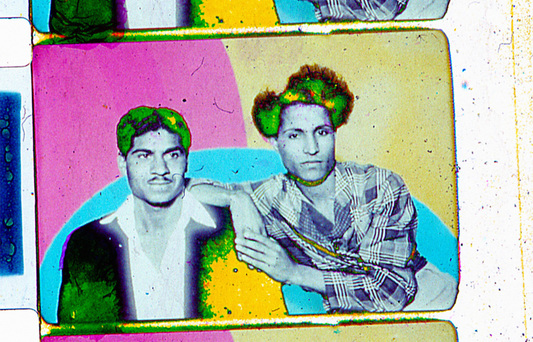 JERUSALEM IN MY HEART ANNOUNCES NEW ALBUM DAQA'IQ TUDAIQ,
TO BE RELEASED 5TH OCTOBER THROUGH CONSTELLATION,
Jerusalem In My Heart (JIMH)
returns with
Daqa'iq Tudaiq
, the third full-length album from the Montréal-Beirut contemporary Arabic audio-visual duo, following the acclaimed 2015 release
If He Dies, If If If If If If
(year-end lists at The Wire (#39), The Quietus (#24) and A Closer Listen (Top 10), among other accolades).
Featuring voice, electronics, buzuk and other instrumentation from composer-producer Radwan Ghazi Moumneh (Matana Roberts, Suuns, Big Brave) and complemented by the 16mm analog film work of Charles-André Coderre in live performance, JIMH continues to expand the horizons of its profound conceptual and aesthetic engagement with Arabic/Middle-Eastern traditions. Daqa'iq Tudaiq translates as "minutes that bother/oppress/harass" – which presumably needs no further explanation – and features two distinct album sides of music.

Side One realises a long-held dream of Moumneh's to record a modern orchestral version of the popular Egyptian classic "Ya Garat Al Wadi" by the legendary composer Mohammad Abdel Wahab. JIMH assembled a 15-piece orchestra in Beirut, enlisting the celebrated Montréal-Cairo musician/composer Sam Shalabi (Land Of Kush) as arranger and musical director for the session. Anchored by the stately hypnotic pace of plucked and percussive instruments (riq, santur, derbakeh, kanun), the piece unfolds with lush, languid, reverb-drenched manoeuvrings through virtuosic Maqam shifts (Oriental scales). Moumneh's melismatic lead vocals and electronic production sensibility pay homage to the genre's documented historical recording traditions, while pushing things subtly and respectfully into new territories of sonic distortion and noised, artefact-laden transmission. The song's original title (with lyrics penned in 1928 by the poet Ahmad Shawqi) translates as "Oh Neighbour Of The Valley", but JIMH takes a different line from the original lyric as the new title for its orchestral-electronic re-interpretation. "Wa Ta'atalat Loughat Al Kalam" ("The Language Of Speech Has Broke Down") is an expression of wordless love and transcendent communication between two lovers' eyes in Shawqi's poem; JIMH re-titles the song with this line, exploding the sentiment with more complexity, tragedy and socio-political meaning – also prefiguring the formal aesthetic ruptures JIMH bring to the piece itself. Love in a time of politics, politics in a world conspiring against love, and the specificity of Arab diasporic experience in our brutish 21st century.

Side Two comprises four tracks of non-ensemble "solo" material by Moumneh which push rupture and decomposition/recomposition of tradition further into avant-garde territory – voice, buzuk and electronics take the lead on a suite of emotive and evocative songs, including the percussive loop-driven instrumental "Bein Ithnein" ("Between Two" ) and the stunningly unsettling processed vocal track "Thahab, Mish Roujou', Thahab" ("The Act Of Departing, Not Returning, Departing").
Daqa'iq Tudaiq is a masterful, mesmerizing artistic statement and confirms Jerusalem In My Heart as one of the most engaged and forward-looking avant-Arabic projects at work in contemporary music today.
Charles-André Coderre's video for "
Thahab, Mish Roujou', Thahab
" encapsulates the many fascinating strands at play in
Daqa'iq Tudaiq
. Coderre is a leading practitioner of experimental analog filmmaking and his bespoke 16mm film treatments and live projections are a core component of Jerusalem In My Heart. For
Daqa'iq Tudaiq
, he has created a visual diary capturing the making of the album's orchestral suite, shooting the 15 musicians assembled in Beirut during that recording session (a film to be screened at select engagements during JIMH's forthcoming tour). Fragments of this 16mm footage – interspersed with archival images from the Arab Image Foundation which feature in the album artwork – are used in the "Thahab, Mish Roujou', Thahab" video, offering a taste of Coderre's unique film-processing techniques and cut-up/collage sensibility. We see a sequence of Beirut-based musicians filmed in living portraits, a subtle and abstract homage to indie artists at work in the Middle East, whose involvement was an essential political, cultural and economic act for Jerusalem In My Heart with this new album. Set to Radwan Ghazi Moumneh's processed-vocal track – the title of which translates as "(The Act Of) Departing, Not Returning, Departing" – makes this an ode and testament of sorts to unsung artists tending the flames of modern-contemporary culture in a region of the world too often and abominably depicted in the West as barbaric and backward, and too often with real-world implications for the freedom of such artists to travel and collaborate otherwise, simply based on nationality.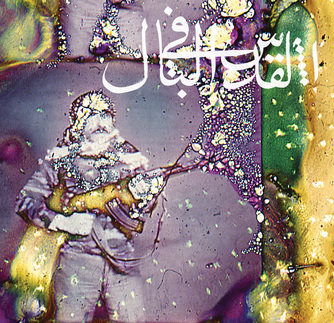 CST137 • 180gLP / CD / DL
Release Date: 5 October 2018
FULL ALBUM INFO AND PREORDER LINK HERE
RIYL: Matar Mohammad, Pauline Oliveros, Nadah El Shazly, Lucrecia Dalt, Arca, Chino Amobi, Fatima Al Qadiri, Tacita Dean, Stan Brakhage
Jerusalem In My Heart
Autumn 2018 Tour Dates
Oct 03 – Toronto, ON @ The Burdock
Oct 04 – Ottawa, ON @ General Assembly
Oct 05 – Montreal, QC @ PHI Centre (record launch)
Oct 19 – Durbe, Latvia @ Zemlika Festival
Nov 08 – Utrecht, NL @ Le Guess Who
Nov 14 – Paris, FR @ Le Petit Bain
Nov 15 – London, UK @ Cafe Oto
Nov 21 – Cinema Massimo, Torino, IT
Nov 23 – Arci Kroen, Verona, IT
"If He Dies, If If If If If If is a stunning, of-the-moment record that speaks to the intersection of the personal and political with supreme confidence." –
AD-HOC