JAPANESE PSYCH BAND QUJAKU & AVANT NOISE ARTISTS GROUP A SHARE VIDEOS AHEAD OF TOUR OUTLANDS PRESENTS:
ENSŌ SONE – QUJAKU & IMPATV IN COLLABORATION With special guests group A (presenting a new AV set)
WATCH NEW TRAILERS BY QUJAKU & IMPATV & GROUP A X DEAD SLOW
This November OUTLANDS experimental music touring network present an original audio-visual collaboration between Japanese psych band Qujaku and UK visual artists IMPATV, exploring ideas of duality. Special guests group A open each night of the tour with a spectacular new AV set.
Qujaku's amalgam of heavy, rhythmic ambience shall combine with IMPATV's stage construction, including visual projections made from footage shot during their trip to Japan and powerful lighting design, unfurling as an expansive spectacle to stimulate the senses.
The resulting union, entitled Ensō Sone, begins with the Japanese circular symbol Ensō – hand-drawn in one or two uninhibited brushstrokes to express a moment when the mind is free to let the body create and Sone – a unit of loudness; how loud a sound is perceived. Further ideas from Japanese Zen practice; of oneness, natural opposites and equilibrium, the spirit of harmonious cooperation, the visible and the invisible, absolute fullness in emptiness, simplicity, completeness, and endlessness are explored.
The tour includes special guests electronic, industrial act group A (now the solo project of Tommi Tokyo) who in turn collaborate with Berlin based visual artist DEAD SLOW AHEAD on a new multi-dimensional video universe, opening the gate to the inside-self, mixing slow ethereal abstract sounds with mind-shattering stroboscopic video pulsations, designed to challenge the observers' expectations of AV work.
OUTLANDS TOUR #6 DATES:
Wed 6th Nov – Birmingham – Hare & Hounds
Thu 7th Nov – Milton Keynes Gallery
Fri 8th Nov – London – Corsica Studios
Sat 9th Nov – Cambridge Junction
Sun 10th Nov – Bexhill – De La Warr Pavilion
Mon 11th Nov – Bristol – Cube Cinema
Tue 12th Nov – Plymouth – KARST
Wed 13th Nov – Manchester – Fairfield Social Club
Thu 14th Nov – Bradford – Fuse
ABOUT THE ARTISTS: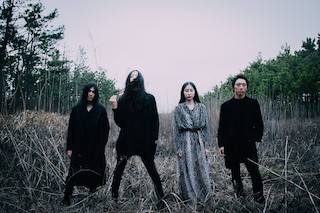 (photo credit Hajime Kato, hi res version available here)
QUJAKUFormed in 2013, QUJAKU are a Japanese heavy psychedelic rock band based in Shizuoka. Their dark, heavy psychedelia is replete with rich distortion and feedback creating a unique decadent ambience. The apocalyptic sound they muster fuels an urge to release from the everyday to discover an ephemeral beauty behind the fierceness. The delicate yet strong leading voice, filled with destructive guitar, repetitive rhythmic percussion, and deep, bellowing bass combine to create Qujaku's unique sound atmosphere to preoccupy the mind and enhance the experience.
FB: https://www.facebook.com/Qujaku/
Twitter: https://twitter.com/qujaku_info
Instagram: https://www.instagram.com/qujaku_jpn/
Website: https://qujaku.com/
Bandcamp: https://qujaku.bandcamp.com/album/qujaku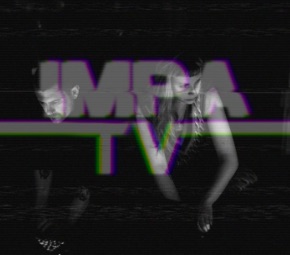 IMPATV
IMPATV is a collaborative video and stage production project from UK artists Isadora Darke and Jamie Robinson. Using new digital technologies and live mixing methods combined with costumes and stage design they produce immersive installations, music videos, live streaming, and art and music productions across the realms of DIY, experimental and underground culture.
WATCH IMPATV'S MUSIC VIDEO FOR NEW QUJAKU SONG "IN NEUTRAL"
FB: https://www.facebook.com/IMPATV/
Twitter: https://twitter.com/impa_tv
Instagram: https://www.instagram.com/impatv/
Website: https://impatv.com/
Youtube: https://www.youtube.com/impatv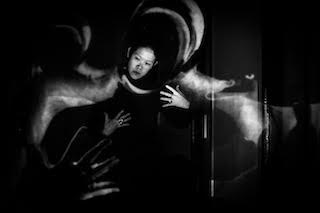 (Photo by Dead Slow Ahead, high-res available here)
GROUP A – DEAD SLOW AHEAD group A present a mix of synth heavy minimal wave, avant noise, striking visuals and performance art that carries the very breath of early industrial pioneers such as Throbbing Gristle or Cabaret Voltaire. Their early shows came as a shock to most spectators, non-stop waves of experimental noise, intensely emotional poetry readings and nude live-paintings. As the violinist Sayaka goes on a long hiatus, group A is evolving, currently the solo project of Tommi Tokyo, she continues to collaborate with Berlin based visual artist DEAD SLOW AHEAD for live A/V performances. The work of DEAD SLOW AHEAD centres around erratic geometry, slow strobe destruction, and negation of the visual comfort zone.
FB: https://www.facebook.com/groupAband/
Instagram: https://www.instagram.com/group_a_band/
Soundcloud: https://soundcloud.com/group_a
Bandcamp: https://groupa.bandcamp.com/
FB: https://www.facebook.com/deadslowahead
QUOTES:
"I am extremely excited to be commissioning this project and touring it around the Outlands network. The Japan & UK residencies allowed for a deep creative partnership between Qujaku & IMPATV to be established and enabled this ambitious AV touring production to be delivered. During our time in Japan, Fat Out connected with independent venues, art spaces, and interesting performances spaces – seeking out those that championed experimental and alternative music. We have established partnerships with these spaces and the people who run them, and aim of working together to set up opportunities for artists and further build partnerships between the UK and Japan in the future." – Emma Thompson, Fat Out
"We're delighted to be a part of the project. We've never had tours in collaboration with visual artists, it's always exciting to do new things. The UK is one of the countries we enjoy playing most and people are always kind to us. We really look forward to playing in the country, working with people from a different culture and creating moments people enjoy themselves." – QUJAKU
"We first saw Qujaku live in 2016 and felt a sense of mysticism and otherworldliness through the intense stomping rhythm and eerie vocals. They have a completely different sound to any UK bands we know of and we're excited to see how this will inform the imagery of the visuals we will create. During our trip to Japan we immersed ourselves in their culture, values, craft and technology which massively inspired the visual direction of this project." – IMPATV
This performance is an original commission by OUTLANDS, produced by Fat Out, 2019.
Supported by Arts Council England, Esmée Fairbairn Foundation, Sasakawa Foundation, Daiwa Foundation.
Official event of the Japan Season of Culture
Twitter: @OutlandsNetwork
#OutlandsMusic