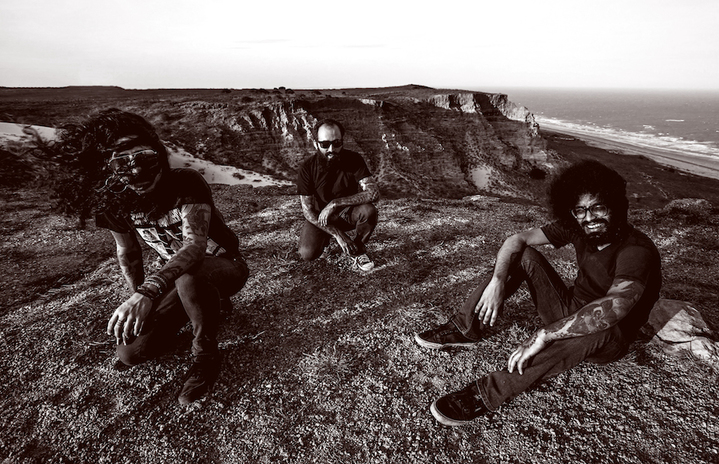 "one of the most exciting bands I have heard in a very long time." – STEVE VON TILL, NEUROSIS/NEUROT
Brazilian trio
DEAFKIDS
are now streaming "
Templo do Caos
" from
Metaprogramação,
the band's third album and first full-length for Neurot Recordings, due on March 15th.
While DEAFKIDS' previous release, Configuração Do Lamento, captured the group delving deep into their own diverse and discordant musical world, Metaprogramação pushes these elements to entirely new extremes. The band imprints a future-primitive psychic scenario into their music by weaving a fabric of electronic pulses, barrages of delay and noise, wailing guitars, and frenzied rhythms that ricochet aggressively between the speakers. Songs are urgent yet fluid, melting and dissolving into one another, culminating in a wild psychedelic journey that's bound to reach one's mind through the body while intoxicating both.
About the album, Metaprogramação, DEAFKIDS offer the following statement…
Deceived by perceiving our so-called individuality as a form of freedom, we are programmed to live and continue living as a fragmented and binary model of nature. Experimental numbers in a worldwide political power-game where human lives and its complexities, connections, necessities and environments are lowered in terms manipulated by algorithms, mind control and brutal force upon our conditions, our rights and our true will. Shaping, overwhelming, and fragmenting our tunnels of perception to the point where the excess of information becomes diffused and the whole contained within each being is more and more dispersed, confused, and disconnected, reflecting an insane image of ones identification with an artificial reality – where in some bizarre way, all these schizophrenic, corrupted and truculent theaters of domination and submission that appears all over human relations seems to make some sense – and of non-identification with what would be our inner reality, the telepathic level behind the veils where boundaries and divisions between us and the plane of consciousness, between you and the other don't really exist. A level of reality where we might have the power to start learning how to reprogram ourselves by our own tools, being able to visit our internal hall of mirrors beyond space and time and deal with the negative roots of our condensed emotions and traumas trough a new perspective of relation and control with our thoughts, paths and everything we're connected with. We must unite as one and resist against the violent symbols of oppression, including what's imprinted on our own self, that must be sacrificed daily. Metaprogramação offers a vertiginous, sensory insight on these inner conflicts and aspects of the animal being. Do not allow yourself to be programmed.
DEAFKIDS will tour across Europe in support of the album this Spring, leading with two sets at Roadburn Festival April 11th and 12th, the tour lasting into early May. Watch for additional dates to be announced.
DEAFKIDS Tour Dates:
11/4/2019 Roadburn Festival 2019 -Tilburg, NL
12/4/2019 Roadburn Festival 2019 – Tilburg, NL w/ PetBrick
14/4/2019 – Amsterdam, NL
16/4/2019 D. K. Luksus – Wroclaw, PL
17/4/2019 Underdogs – Prague, CZ
18/4/2019 Urban Spree – Berlin, DE
19/4/2019 Merleyn – Nijmegen, NL
20/4/2019 The Lexington – London, UK
21/4/2019 Soup Kitchen – Manchester, UK
22/4/2019 The Hope & Ruin – Brighton, UK
23/4/2019 Moon – Cardiff, UK
24/4/2019 The Cluny – Newcastle, UK
25/4/2019 Rough Trade – Bristol, UK
26/4/2019 Olympic Cafe – Paris, FR
28/4/2019 SWR Barroselas Metalfest 2019 – Viana do Castelo, PT
29/4/2019 Mag4 – Bruxelles, BE
30/4/2019 Bar Hic – Rennes, FR
1/5/2019 Tri Martolod – Concarneau, FR
2/5/2019 Léo Ferré – Brest Espace, FR
3/5/2019 Les 3 Pieces – Rouen, FR
5/5/2019 Het Bos – Antwerp, BE
5/5/2019 Donau Festival 2019 – Donau, AT
Neurot Recordings will release Metaprogramação on LP, CD, and digital platforms on March 15th. Find digital preorders at Bandcamp where "Mente Bicameral" is streaming and physical preorders at the Neurot webshop.