CHRCH SHARE THE NEW SONG "PORTALS" FROM THEIR INCOMING ALBUM,
LIGHT WILL CONSUME US ALL,
RELEASE DATE NOW SET FOR THE 11TH MAY VIA NEUROT RECORDINGS
Chrch share the striking new song "Portals" (alongside an in-depth interview via Metal Hammer from their incoming second full-length album Light Will Consume Us All, now scheduled for release on the 11th of May (Neurot Recordings). About the track, the band comment…""Portals" is a great bridge between our albums. It demonstrates the foundation of our "sound" whilst also showing some of the ways in which our music has evolved. To our mind, it is also a good example of the various of emotions andideas we are exploring with Light Will Consume Us All."
Standing at a crossroads of light and dark, Chrch layer intricate melodies, thunderous rhythms, gargantuan riffs, and a powerful, supernatural vocal presence, performing with a striking purity and honesty. Their long-form songs build and deconstruct as the band reach sonic highs, and at times, beautiful plateaus, "Portals" is indeed a fine example of this.
Light Will Consume Us All, carries with it the same quality of songwriting that caught the attention of fans worldwide on their debut, Unanswered Hymns (Battleground Records, 2015). Building upon this foundation, the album continues Chrch's narrative, traversing life's journey of loss, reclamation and, ultimately, finding hope within the darkness.There are live dates incoming this month and in support of the album's release date, those are listed below.
Chrch live dates:
24/03/2018 The Golden Bull – Oakland, CA
30/03/2018 Blue Lamp – Sacramento, CA w/ Usnea, Un, Occlith
31/03/2018 Days Of The Loud @ Jub Jub's Thirst Parlor – Reno, NV
w/ Fister:
02/05/2018 Bar Loose – Helsinki, FI
03/05/2018 SubScene – Oslo, NO
04/05/2018 Northern Discomfort – Copenhagen, DK
06/05/2018 Desert Fest – London, UK
07/05/2018 Fuel – Cardiff, UK
08/05/2018 Nice N Sleazy – Glasgow, UK
09/05/2018 Head Of Steam – Newcastle, UK
10/05/2018 Temple Of Boom – Leeds, UK
11/05/2018 Magasin4 – Brussels, BE
12/05/2018 – Halle Am Rhein – Cologne – Germany *new addition
15/05/2018 – L'Usine – Geneva – Switzerland *new addition
16/05/2018 – JuHa West – Stuttgart – Germany *new addition
Plus US tour dates announced:
11/06/2018 – Slidebar – Fullerton, CA*
12/06/2018 – Garage Rock Bar – Tijuana, MX
13/06/2018 – The Rogue – Phoenix, AZ*
14/06/2018 – Fly Catcher – Tucson, AZ*
15/06/2018 – Neon Rose – El Paso*
16/06/2018 – Lost Well – Austin, TX – Austin Terror Fest
17/06/2018 – Reno's – Dallas, TX*
18/06/2018 – Hi Dive – Denver, CO*
19/06/2018 – Metro Music Hall – Salt Lake City, UT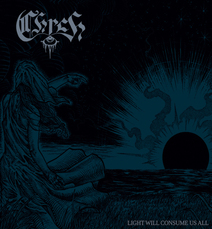 Light Will Consume Us All Track Listing:
1. Infinite Return
2. Portals
3. Aether
Chrch are:
Eva Rose – vocals
Chris Lemos – guitar, vocals
Ben Cathcart – bass
Adam Jennings – drums
Karl Cordtz – guitar, vocals
Chrch's Light Will Consume Us All shall be released on CD, vinyl, and digital formats via Neurot Recordings May the 11th. Preorders are now available via the label's webstore.
"Light Will Consume Us All, is driven by the fearless self-examination and move-any-mountain heft you'd expect from their hosts. But given the space to unfurl throughout its three, lengthy tracks, this is doom/sludge as psychic potholing, roving from claustrophobic crunch to dazed wonder, poking at deeply buried recesses of the heart and waking sleeping giants that lurk within."
 – 
METAL HAMMER