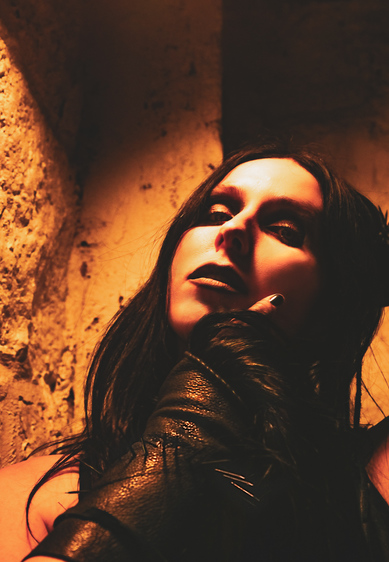 Following on from the recent European tour, including UK dates with Ministry, Chelsea Wolf announces a full European tour in suppport of A Perfect Circle. Check out the dates below and immerse yourself in Chelsea Wolfe's striking video for "
The Culling
" taken from the album
Hiss Spun,
released last September via Sargent House.
CHELSEA WOLFE LIVE DATES SUPPORTING A PERFECT CIRCLE:
02/12 Glasgow 02 Academy
03/12 Manchester Victoria Warehouse
05/12 London Wembley Arena
06/12 Paris Le Zenith
07/12 Antwerp Lotto Arena
09/12 Amsterdam AFAS Live
10/12 Cologne Palladium
12/12 Copenhage Forum
13/12 Hamburg Sporthalle
15/12 Krakow Tauron Arena
16/12 Vienna Stadthalle
18/12 Milan Mediolonum Forum
19/12 Rome Pala Lottomatica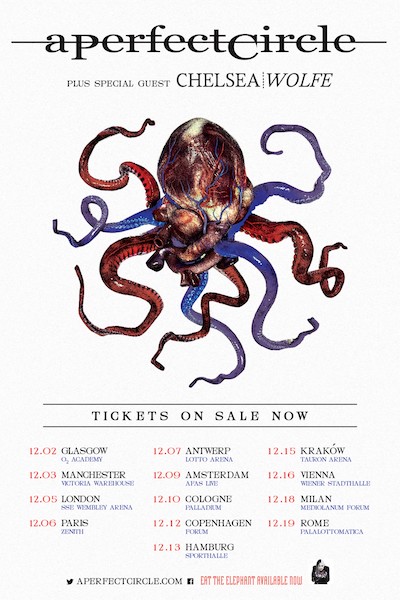 Chelsea Wolfe: guitar, vocals
Ben Chisholm: bass, electronics
Bryan Tulao: lead guitar
Jess Gowrie: drums
"What I want is to open up. I want to know what's inside me. I want everybody to open up. I'm like an imbecile with a can opener in his hand, wondering where to begin—to open up the earth. I know that underneath the mess everything is marvelous. I'm sure of it." – Henry Miller
Digging beneath the mess of the world to find the beauty underneath is perhaps the most consistent theme in Chelsea Wolfe's expansive discography—a theme that ties together her ceaseless explorations in unorthodox textures, haunting melodies, and mining the grandeur embedded within ugliness and pain. With her sixth official album Hiss Spun, Wolfe adopts Miller's quest to become empowered by embracing the mess of the self, to control the tumult of the soul in hopes of reigning in the chaos of the world around us.
While past albums operated on the intimacy of stripped-down folk music (The Grime and the Glow, Unknown Rooms), or the throbbing pulse of supplemental electronics (Pain Is Beauty,Abyss), Wolfe's latest offering wrings its exquisiteness out of a palette of groaning bass, pounding drums, and crunching distortion. It's an album that inadvertently drew part of its aura from the cold white of the New England winter, though the flesh-and-bone of the material was culled from upheavals in Wolfe's personal life, and coming to terms with years of vulnerability, anger, self-destruction, and dark family history.
Every Chelsea Wolfe album is cathartic, but never before has both the artist and her audience so desperately needed this kind of emotional purging.
FIND OUT MORE ABOUT HISS SPUN…