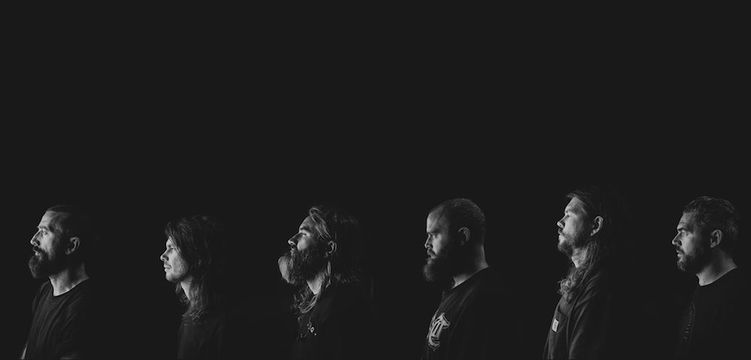 AMENRA TO PLAY A UNIQUE ACOUSTIC SET IN LONDON AS PART OF 20TH ANNIVERSARY CELEBRATIONS:
THURSDAY 2ND MAY 2019 – BUSH HALL, LONDON
TICKETS AVAILABLE HERE, ALREADY HALF WAY SOLD OUT
Expanding on their ever surprising and always challenging sound and live presentation, Amenra will be playing an unique acoustic set a few days before they headline Desertfest.
Taking place at London's Bush Hall the performance extends the celebration of Amenra's 20th anniversary and their ethereal heaviness in all it's forms.

Founding member CHVE had this to say about their upcoming appearances:

"Two decades of friendship brought us here. In this time, this place, of sublime gratitude, we all found solace in our sound; and are still around. It's hard sometimes to look back – the moments of happiness we shared and those moments that broke us – through thick and thin; above anything I feel grateful. Grateful towards all band members, towards all people that stood and still stand by us throughout the years, thats why we want to celebrate it with you. We realise that what we have is special, maybe one of a kind. That is why we want to celebrate it with you and thank you for helping us persevere. Throughout the year we will do a select amount of specially chosen shows, and these will be one of those moments where it all comes together – where we all come together – and persevere." 

Reminder as well that Desertfest are playing host to not one, but two special sets celebrating Amenra's contributions to ethereal ambient sounds. In addition to their Saturday night headline performance, on Sunday at The Underworld, we bear witness to a more intimate project; CHVE x Syndrome. As Amenra's two founding members, Colin H. van Eeckhout (vocals) and Mathieu Vandekerckhove (lead guitar) have a long history of working together musically, though, as with any great artist, both eventually desired an outlet for solo material; thus were born CHVE (Eeckhout) and Syndrome (Vandekerckhove) respectively. More delicate than their combined efforts, and both with a heavier leaning into the droning tones, CHVE & Syndrome have created legitimate masterpieces (See Rasa and Forever and a Day for clear evidence of this) whilst treading their own personal paths, producing music which is good for the soul. 

AMENRA also reveal an important curated event occurring in their hometown Gent BE at the Vooruit arts centre. AMENRA have invited friends and artists that have inspired them along the way (dance, performance art and more featuring the likes of Olivier de Sagazan, Pan Daijing, Body of Reverbs, Giselle Vienne, Alos, Meg Stuart..) also including a contemporary dance piece CHVE and Mathieu Vandekerckhove have written the music for.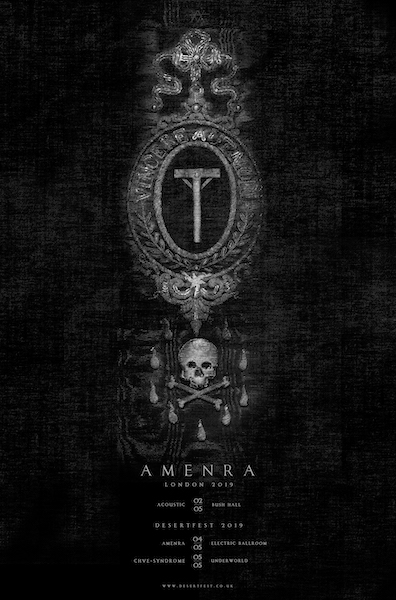 Ticket link – https://www.seetickets.com/event/amenra-20th-anniversary-acoustic-performance-/bush-hall/1326177
Facebook – @DesertfestLondon
IG – @desertfest_london

Other live dates as follows:-
22/03 – Reflektor, Luik BE – SOLD OUT
26/04 – Groezrock BE
02/05 – Bush Hall, London UK (acoustic)
04/05 – Desertfest London UK
11/05 – Vienna Metal Meeting, Vienna AT
19/05 – Vooruit Gent BE *Special curated hometown event
25/05 – "Uit handen geven" Gent BE – Fire Ritual *new addition
28/06 – DE Grafenhainichen, Full Force *new addition
07/07 – IEPERFEST Ieper BE
13/07 – Rock Herk, Herk de stad BE *new addition
10/08 – Alcatraz Festival, Kortrijk BE
18/08 – Psycho Las Vegas USA *new addition
01/09 – OLT Rivierenhof, Deurne BE – SOLD OUT
04/10 – CH Pratteln, Up In Smoke *new addition

Plus the band are touring with Yob and Voivod in March and April, head on here for more details.

http://www.churchofra.com
http://www.ritualofra.com
http://www.facebook.com/churchofra
http://www.neurotrecordings.com
http://www.facebook.com/neurotrecordings
https://neurotrecordings.bandcamp.com
https://twitter.com/OfficialNeurot