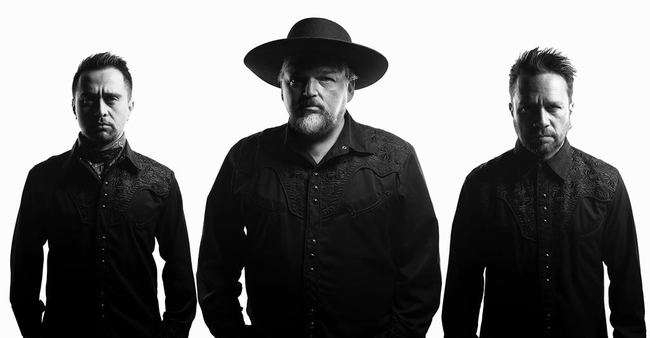 The
Alain Johannes Trio
featuring
Johannes (Eleven, Queens of the Stone Age)
alongside brothers
Felo
and
Cote Foncea
have released a video for the song "
Luna A Sol feat. Mike Patton)"
. The single is the first preview of the Trio's 2019 debut album, which will arrive via Patton's
Ipecac Recordings
in 2019, with the release date yet to be announced.
About the video Alain admits to being "very excited to release the video for Luna A Sol which was a collaboration built on passion and love from Juna's amazing presence and fire and Felo's direction, concept and editing to the amazing talented crew and the beautiful theatre we were given to use. It's performance based energy really works with the song and underscores my trio's chemistry and connection."
The director, editor Felo Foncea, also part of the trio adds, "I wanted to invite Juna because I know that she could interpret with her dancing what the song expresses in the lyric. She is one of the best dancers in Chile. And also show our trio and the connection that occurs between us, always playing with the passion and energy that the songs require. It was filmed in one day at an old Santiago theater, the Teatro If, with an Alexa Plus camera, Steadycam and edited in Final Cut Pro X."
Johannes, who is well known for his work with the highly influential '90s rock band Eleven as well as his partnership with Queens of the Stone Age and Them Crooked Vultures, previously released a solo album with Ipecac, the 2010 album Spark. The Foncea brothers came to prominence in their native Chile with their pioneering hip hop-meets-Latin music outfit, DeKiruza, in the years since they've had several solo and joint outings as well as winning numerous awards, including a 2001 MTV Award, for their video work.
About the song Alain remarks, "Luna A Sol is a really special song for me. Not only because it's my first lyric in Spanish but also because of Mike Patton's amazing vocals on it." He continues, "And it's the debut recording of my all Chilean trio with Cote and Felo Foncea. I feel it like a rebirth, a recharging of my musical path continuing where Natasha and I left off in Eleven. Returning to my roots in Chile 8 years ago has fueled and informed this moment and I'm very excited and honored that Ipecac will bring it to resonant listeners around the world."
We look forward to further news about the debut album in the near future, for now enjoy this audio visual insight via the video for "
Luna A Sol
".