(individual tour posters available on request)
A force to be reckoned with, Full Of Hell commence their Trumpeting Ecstasy headline tour next month, and below are the dates including new additions in mainland Europe, with support on the UK dates comes from Famine and Unyielding Love. Aaron Turner, who features on the album, has this to say about Full Of Hell's live show…
"First time I saw Full of Hell has been like every show I've seen of theirs: furious. This is just as it should be for a band who's sound is comprised of roughly equal parts grind, thrash, noise and martial hardcore. Broken sticks, crumbling distortion, spittle – relentless and precise. The brevity of their performances does nothing to lessen the impact – in fact it is exactly this shrewd presentation that leaves such a lasting impression – a short and incredibly destructive storm. And a highly enjoyable one at that."
TRUMPETING ECSTASY TOUR DATES:
23.06. Stuttgart – JuHa West (Germany)
24.06. Munich – Saint Helena Festival (Germany)
25.06. Zwiesel – Jugendcafé (Germany)
26.06. Solingen – Waldmeister (Germany)
27.06. Arnhem – Willemeen (Netherlands)
28.06. Trier – Exhaus (Germany) *new addition
29.06. Weimar – Gerber (Germany)
30.06. Berlin – Cassiopeia (Germany)
01.07. Roskilde – Roskilde Festival (Denmark)
03.07. Poznan – Pod Minoga (Poland)
04.07. Warsaw – Poglos (Poland)
06.07. Trutnov – Obscene Extreme Fest (Czech Republic)
07.07. Kosice – Colloseum 777 (Slovakia)
08.07. Budapest – A38 (Hungary)
09.07. Novi Sad – Exit Fest (Serbia)
10.07. Innsbruck – LiveStage (Austria)
11.07. Zurich – Werk21 (Switzerland)
12.07. Wiesbaden – Schlachthof (Germany)
13.07. Antwerp – Hetbos (Belgium)
UK DATES WITH FAMINE AND UNYIELDING LOVE:
14.07. London – Kamio (United Kingdom)
15.07. Leeds – Temple Of Boom (United Kingdom)
16.07. Glasgow – Audio (United Kingdom)
17.07. Manchester – Soup Kitchen (United Kingdom)
18.07. Bristol – Exchange (United Kingdom)
The embryonic beginnings of Full of Hell displayed their palette at its most primitive; intense d-beat blasts punctuating their hardcore punk core, with moments of noise and caustic rhythm. Within a few short years, they have bloomed into a true force to be reckoned with, particularly within the punk and metal communities. Since the release of their Profound Lore Records debut album Full Of Hell & Merzbow late 2014, their third full-length album, the band have truly come into their own, further expanding their repertoire and discography, collaborating on an album with The Body (Neurot Recordings) and releasing several EPs, including their most-recent split 7"EP with Nails (which debuts #2 on the Billboard Top 100 Singles Chart). Their sound evolving further into a frenetic combination of grindcore, death/black metal, punk and hardcore with distinct elements of power electronics and industrial pounding.
Trumpeting Ecstasy was recorded at God City Studios with Kurt Ballou (who also appears on the record). The aural deluge also features guest appearances by Aaron Turner (Sumac/Old Man Gloom/Mamiffer/Isis), Nate Newton (Converge/Old Man Gloom), Andrew Nolan (Column Of Heaven/The Endless Blockade), Lee Buford (The Body) and Canadian singer/songwriter Nicole Dollanganger.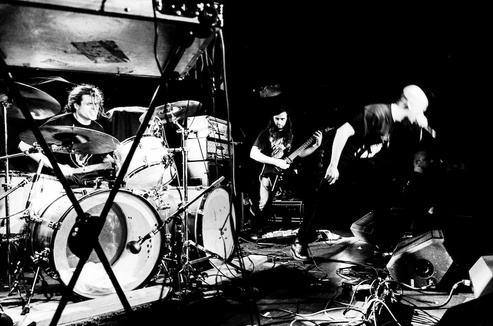 (Photo credit: Reid Haithcock. Available in hi-res)
TRACK LIST:
1. Deluminate
2. Branches Of Yew
3. Bound Sphinx
4. The Cosmic Vein
5. Digital Prison
6. Crawling Back To God
7. Fractured Quartz
8. Gnawed Flesh
9. Ashen Mesh
10. Trumpeting Ecstasy
11. At The Cauldron's Bottom