(photo credit: Ed Battes)
Ohio-based death cult Crypt Rot has released a disturbing new video for "Pit Of Morbidity," which hails from the band's freshly exhumed Embryonic Devils debut.
Formed in 2016 by a crew of veterans including several current/former members of Homewrecker, Crypt Rot enlisted Bill Korecky at the Mars Compound (Integrity, Ringworm, Homewrecker) for the recording of Embryonic Devils. Crypt Rot summon an ominous atmosphere on this debut release, as they segue between pummelling blackened death metal fury, packed with caustic vocals, drop-tuned aggression, relentless riffs, spine-tingling harmonies, and creepy sounds from the darkest, dankest catacombs.
About their first visual accompaniment to Embryonic Devils, lead vocalist/guitarist Ryan Sposito comments, "The video was filmed in Ashtabula, Ohio, the indoor scenes filmed above the Harbor Perk Coffeehouse, and the outdoor scenes were filmed at bassist Aaron Schwarz's property. Director Jim Roberts went to school with me and since graduation he has released many B Horror movies. It felt like the perfect opportunity to collaborate. My friend Miles Ackroyd went to George A. Romero's school for makeup and special effects. Fortunately, I knew a lot of friends who could help make the video; the total budget was $600. I wrote the song lyrically after my brother passed away from brain cancer. So essentially, the plot is me as 'Father Flesh' guiding the younger version of myself through the horrors to come as a metaphorical way to express my extreme suffering in loss."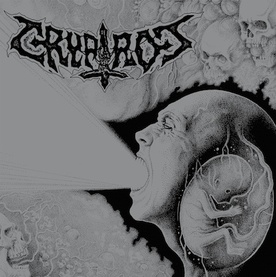 (available in hi res)
TRACK LIST:
1. Segue 1
2. Chapters Of Torment
3. Segue 2
4. Scaphist Waste
5. Segue 3
6. Coffin Birth…Post Mortal Fetal Extrusion
7. Segue 4
8. Pit Of Morbidity
9. Segue 5
10. Internal Organ Feast
CRYPT ROT ARE:
Father Flesh- Vocals/Guitar
The Executioner- Guitar
Necro Butcher (Aaron Schwarz) – Bass
Rotten Misstress- Vocals/Keyboard
Col. Tomb-Vocals/Drums
NORTH AMERICAN TOUR DATES:
20/05/2017 Dreamland – Buffalo, NY w/ Like Rats
Embryonic Devils is released via Southern Lord in LP and digital formats.
"Because I'm a slobbering, slavish fan of old school Swedish death metal, Embryonic Devils lit me up like a gasoline-soaked torch. The riffs have that massive, corrosive, toxic sound that one associates with the style, and with the aid of a skull-cracking rhythm section, they're used to hurl the listener into a war zone, mixing barrages of automatic weapons fire and crushing tank attacks – and occasionally devolving into a doomed stagger…in a nutshell, Embryonic Devils with brutalize you, energize you, and fill you with skin-crawling dread."
– NO CLEAN SINGING
"it is on track eight—'Pit of Morbidity'—where Crypt Rot truly shine. The darkly mellow acoustic intro and deeply unsettling verses are undercut with watery vocals (think David Vincent on 'Where the Slime Lives') that give a real sense of impending doom, a dynamic build up that finally pays off two minutes and thirty seconds in, exploding into mournful, wailing vocal melodies courtesy of Allie Dioneff." – GHOST CULT
"Crypt Rot don't need the injustice of genre tags. Embryonic Devils is a blast to listen to, from the very first time the gritty, super-heavy guitar rips through your ear canal, to the moment the band end things with intensity on album closer, 'Internal Organ Feast'. Feast on this slew of metal treats!" – ECHOES AND DUST
This is just the beginning, let the Rot Begin… welcome to the Crypt.